Still suffering from lower back pain?
Mechanical chronic low back pain results from an injury or stress on the tissues surrounding the spine, including soft tissues, muscles, bones, and joints.
Often times, this type of pain is due to impaired muscle control and neural inhibition of the multifidus, which is the largest stabilizing muscle in your back. When this neuromuscular inhibition occurs, there can be misalignment of the spine, causing uncontrolled loading and pain.
Watch the video to learn more about neuromuscular control, proprioception, and various functions of your back muscles.
Do these symptoms sound familiar?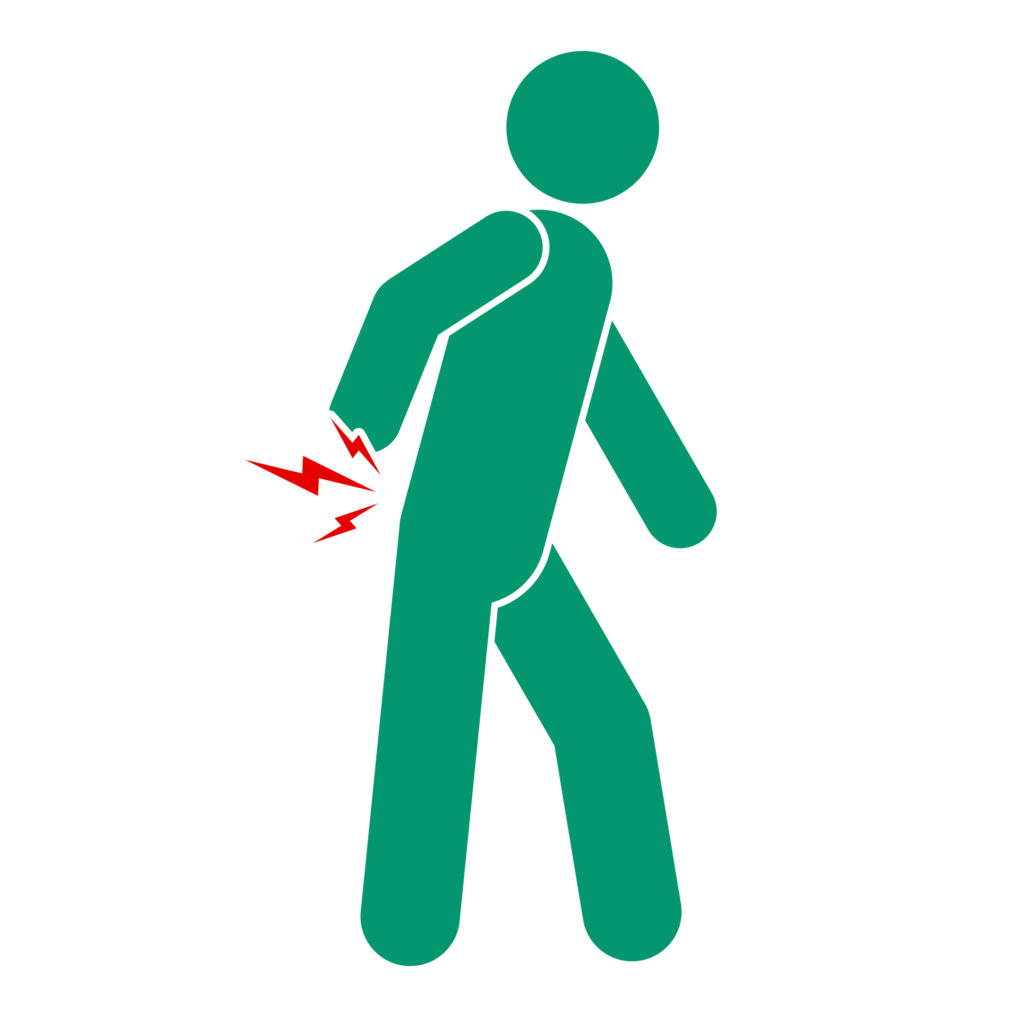 Do you have back pain, muscle spasms, or a feeling instability often?
Do they seem to be getting worse this time?
Do you experience back pain or spasms when doing small tasks like brushing your teeth over a sink, washing the dishes, or reaching for an item?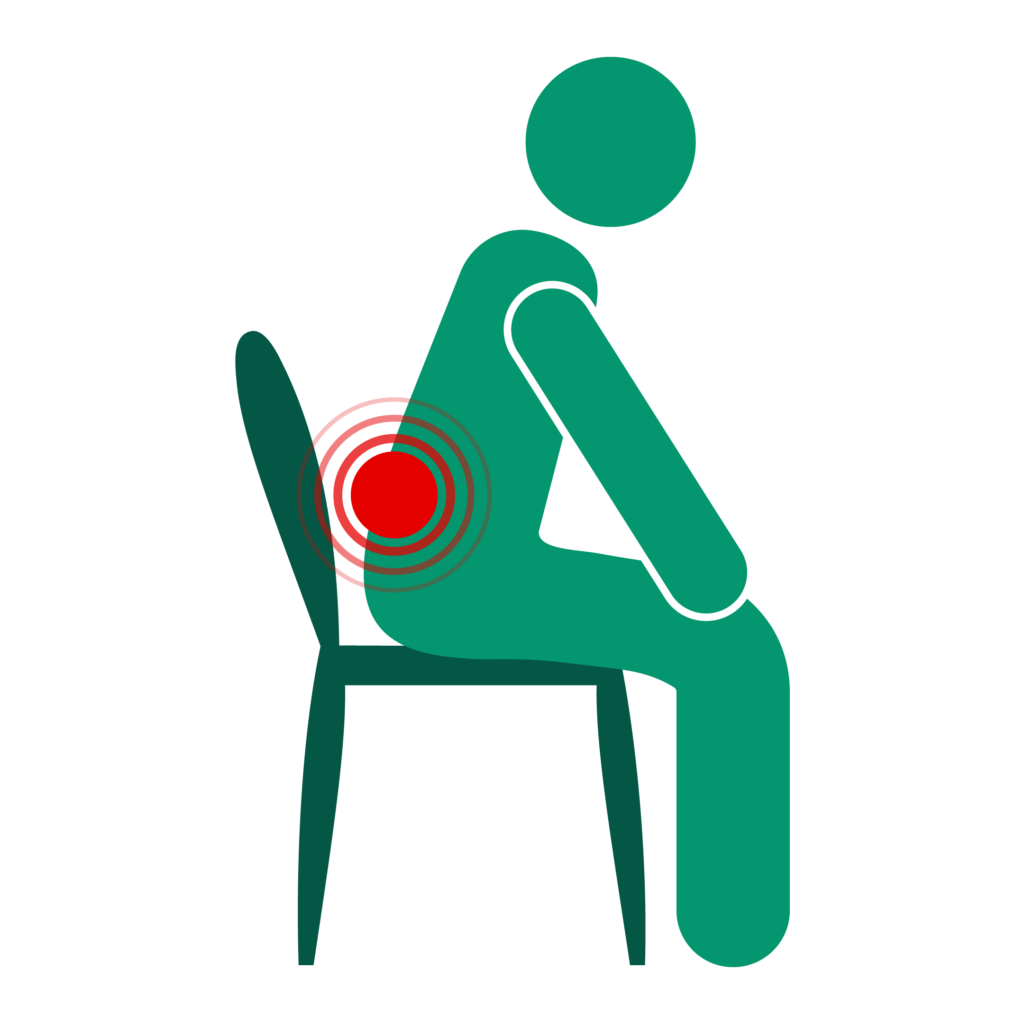 If you stay in a position for an extended period (sitting, standing, driving, etc…) does your back become increasingly painful?
Could your back pain be due to Multifidus Dysfunction?
Multifidus Dysfunction can result from a loss of neuromuscular control. This can cause a lack of spinal support, leading to uncontrolled loading of spinal joints and discs, resulting in mechanical low back pain. 
Watch the video to learn more about multifidus dysfunction and loss of neuromuscular control.
Restorative treatments focus on improving function for patients by addressing a primary underlying cause of chronic low back pain.

Palliative treatments focus on blocking pain through Spinal Cord Stimulation, oral medication, injections, or burning nerves.
Is ReActiv8 right for you?
Complete this health survey to see if you're a good fit
If you've read this far, you're likely still searching for a long term solution to your back pain. By answering the following questions, we can provide you with general guidance on whether you may be a candidate for ReActiv8.
ReActiv8 is designed to treat chronic low back pain in patients diagnosed with dysfunction of the multifidus, which is the primary muscle responsible for lumbar spinal stability. ReActiv8 aims to reduce pain and improve related disability and quality of life.
ReActiv8 is implanted in the lower back or upper buttocks during an outpatient procedure.
A generator is connected to two electrical leads, which stimulate the nerves that control your multifidus muscle.


You control your 30-minute therapy sessions, twice-daily, which can feel like a deep tissue massage.
Long-Term Clinical Outcomes
Pain and Function Improvements
~8 out of 10** patients reported substantial improvements*** in pain and/or function.
~7 out of 10 patients voluntarily eliminated or reduced their opioid intake.*
*Of the 52 subjects who were on an opioid-containing medication at baseline and had a 5-year visit, 69% either decreased (23%) or discontinued (46%) opioids. In addition, of the 74 patients who were not on opioids at baseline, 72 (97%) remained off opioids at the 5-year visit. Therefore, the efficacy results observed at 5-years are in addition to significant reductions in opioid use.
~78.2% (97/124) had a 50% improvement in VAS and / or 20 point at 5 years. 69% of the 52 patients that at baseline were using opioids and were followed to 5 years.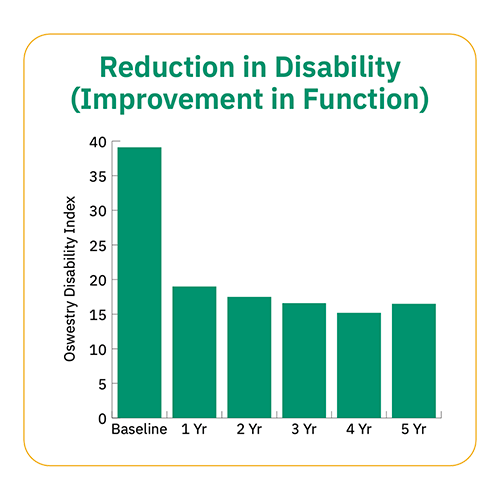 ***Substantial improvement is 50% reduction in Pain measured on visual analogue score and / or a 20 point reduction in Oswestry disability index compared to baseline.
Patients experience long-term improvements in pain and function over time, demonstrating long-term, durable outcomes.
Gilligan C, Volschenk W, Russo M, Green M, Gilmore C, Mehta V, et al. Long-term outcomes of restorative neurostimulation in patients with refractory chronic low back pain secondary to multifidus dysfunction: two-year results of the ReActiv8-B pivotal trial. Neuromodulation Technol Neural Interface. 2023;26:87–97.
Gilligan C., Volschenk W., Russo M., Green M., Gilmore C., Mehta V., Deckers K., De Smedt K., Latif U., Sayed D., Georgius P., Gentile J., Mitchell B., Langhorst M., Huygen F., Baranidharan G., Patel V., Mironer E., Ross E., Carayannopoulos A., Hayek S., Gulve A., Van Buyten J.-P., Tohmeh A., Fischgrund J., Lad S., Ahadian F., Deer T., Klemme W., Rauck R., Rathmell J., Schwab F., Maislin G., Heemels J.P., Eldabe S. 2022. Three-Year Durability of Restorative Neurostimulation Effectiveness in Patients With Chronic Low Back Pain and Multifidus Muscle Dysfunction. Neuromodulation 2022; -: 1–11.
5-year data on file.
The ReActiv8-B Trial demonstrated a strong safety profile for ReActiv8 (particularly compared to spinal cord stimulators). Among the 204 randomized patients through 5 years of follow-up, there were a reported 8 patients (4%) who experienced serious adverse events (SAEs) related to the device/procedure, with 6 of those having pocket infection requiring explant prior to the 120-day visit. There were no unanticipated device/procedure related AEs and no instances of lead migration reported during this study. Key adverse events included implant pocket pain in 21% of patients with 83% resolved, device overstimulation in 15% of patients with 88% resolved, and lead fracture in 5% of patients which all were resolved with intervention.
Backed by real patients with real results
Many people who were treated for their mechanical chronic low back pain with ReActiv8 have seen a dramatic improvement and were eager to share their stories to give hope to others.
Frequently Asked Questions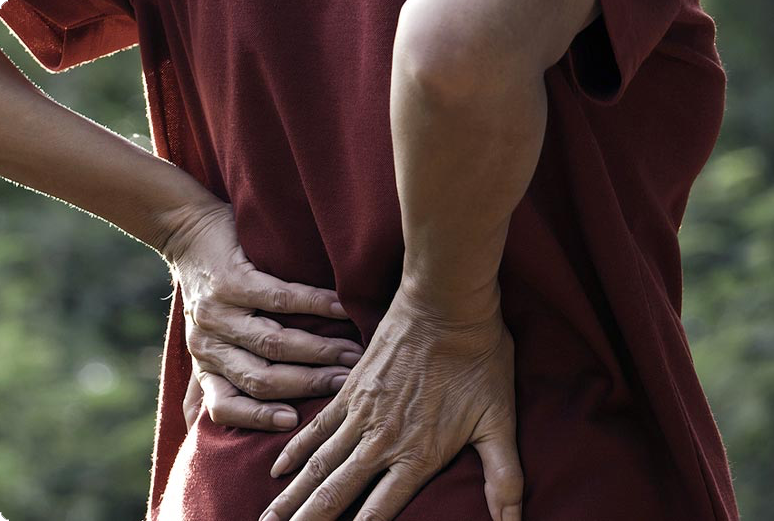 Talk to a real ReActiv8 patient
Learn more about the process here